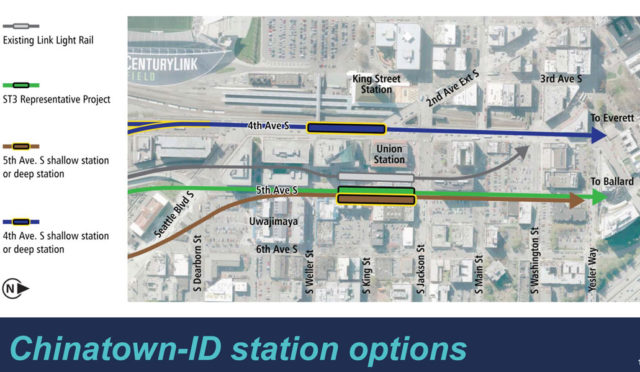 On March 13th, community members who live and work in Chinatown-International District gathered to hear Sound Transit's plans for future light rail extension projects and how they will affect the CID. The meeting was attended mainly by seniors who live in CID housing such as the International House and New Central, so the presentation and discussion groups were mainly conducted in Cantonese and Chinese-language materials were available.
The proposed changes all include some version of a new tunnel to be built in addition to the existing light rail, Sounder train, and other transit options at King Street Station. The new tunnel would be built on either 4th or 5th Avenue South. Depending on the method of construction, either a large or small portion of roads would be affected during construction. The two methods of constructing a new tunnel are referred to as "cut and cover" which would create a shallow station directly underneath the road, or "deep mine" which would create a tunnel deep underground the city. The project could take anywhere from 6 to 10 years to build. Construction would not begin until 2027 so the new station is expected to debut in the 2030s. However, construction could cause a headache for people living, working or commuting in the area, as some proposed plans involve closing 4th or 5th Ave. S. for anywhere from 4 months to 7.5 years.
The average daily traffic on 4th Ave. S. is currently 33,000 cars, so closing or partially closing it for 7 and a half years would undoubtedly have a great impact on the region. 5th Ave. S. is less traversed with only 8.500 daily but is still a major road for those who live, work or visit the CID. Still, it seems that the available option of building a shallow station underneath 5th Ave. S. would take a relatively small amount of time with easier transfers and shorter road closures. The community members' main concerns were about safety in the CID; Sound Transit pledged to improve lighting and walkways in the area around the new and existing stations. Several seniors also pointed out the lack of Chinese-language signage on light rail and bus routes and would like them to be added. Citizens who want to comment on the project can call 206-903-7229 or go online at https://wsblink.participate.online/.