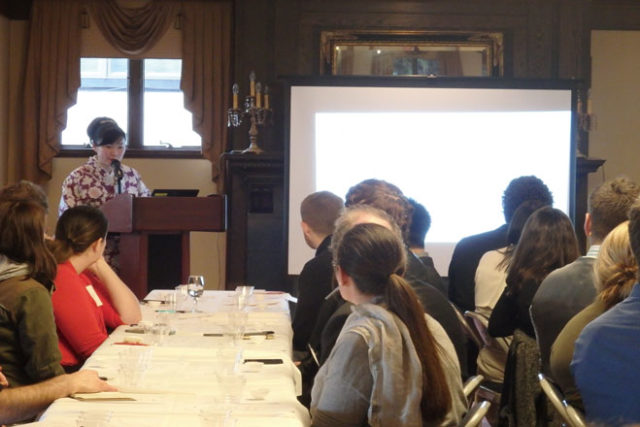 By Mao Osumi
The Consulate General of Japan in Seattle and Japan External Trade Organization (JETRO) San Francisco co-organized a Japanese sake event, "Sake Live Seattle" on Feb. 21 at the Consulate General Masahiro Omura's official residence.
Guests enjoyed a variety of sake from local breweries in Japan and the Pacific Northwest. After an hour-long class about sake, guests experienced the best paring with non-Japanese dishes, Japanese- American fusion cuisine, and appetizers and sake.
The class included two sessions: "All about Atsukan (Hot Sake) and Japanese Culture" by Yuko Saika and "Sake, Did You Know…" by Marcus Pakiser, regional director of Sake for Young's Market Company.
Pakiser, who is also known as Sake Samurai, lectured about advanced sake topics, such as rice categories for each type of sake and the harvest of rice.
"It is easier to pair sake with food than wine," Pakiser said. "Sake backs up and enhances the flavor of food, and it doesn't fight with food."
Since managers or owners who offer sake at their restaurants were invited, Saika explained how to serve the great atsukan at restaurants. Besides how to prepare atsukan, she suggested that restaurants should include tastes of each sake on a menu for customers to easily understand and choose what they want.