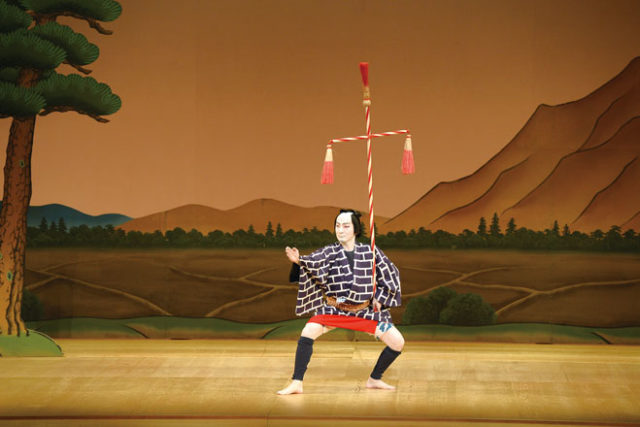 By The North American Post Staff
Fujima Rankoh, a cultural envoy of Japan, will share the world of traditional Japanese dance buyo as a special event for the cherry blossom festival this year. Fujima will appear for two programs in a dance workshop for children and for a stage performance.
Fujima is a successor to the Fujima family, which has been located at "Daichi (alternative site)" since it was awarded during the Edo period.
In 1967, he started learning Japanese classical dance from his grandmother, Fujiko Fujima, and his mother, Rankei Fujima, and made his debut at age six in 1968. In 1978, the fourth head of school, Kan-emon Fujima, granted him the stage name of "Rankoh Fujima." He organizes the dance performances for his school, called "Shikokai," and his own recital, which is called "Rankoh-no-kai," while holding the inter-school performance called "Goyokai."
In addition to inheriting the classicalworks that have been passed down to him via his great-grandmother, Kampachi Fujima, his grandmother Fujiko and his mother Rankei, he has also released his new works based on overseas literary products and pieces of music based on his production and choreography. In 2015, he premiered "-NOBUNAGA-" in a performance entitled "Deai (Encounter)," which was organized in collaboration with the world-famous Russian and Japanese ballet dancers: Farouk Ruzimatov and Morihiro Iwata. He studies Nagauta music under the head of the school, the late Shojiro Kineya VI, Noh play of the Komparu school under the late Nobutaka Komparu and the tea ceremony of the Urasenke school under Sokujitsuan Souan. He also studied Hayashi (musical accompaniment) under the late Seiko Tosha, for which his stage name is Kiyoshi Tosha.
Fujima just arrived in Seattle this week after his first visit to Hawaii. He will perform in 10 countries over the next few months as a cultural envoy.
"As a person who is involved with  Japanese traditional culture, I am feeling a strong sense of mission to introduce  the culture to people and to provide them with entertainment," Fujima said.
Fujima will present the children's dance workshop at 10:30 and 11:30 a.m. on Friday at Armory Loft 2, and perform the Kiyomoto "Yamagaeri" and Tomei Bushi "Miyakodori" on Sunday at 11:30 a.m. at Fisher Pavilion and 3 p.m. in the Armory.
In addition to the cherry blossom festival appearance, Fujima will host the demonstration and workshop at 2 p.m. on April 15 at the Japanese Cultural & Community Center of Washington. He will also join the University of Washington Japan Studies' Mitsubishi Special Lecture "Nihon Buyo" at 7 p.m. on April 20 at the University of Washington Meany Hall studio 267 to perform along with Kabuki scholar Mark Oshima, who will lecture about the history and culture of kabuki.
Registration for the workshop is available through scbjcf@earthlink.net. According to the event host, the UW lecture was sold out, but guests can still sign up for the waiting list. More information can be found at https://jsis.washington.edu/japan/events/.