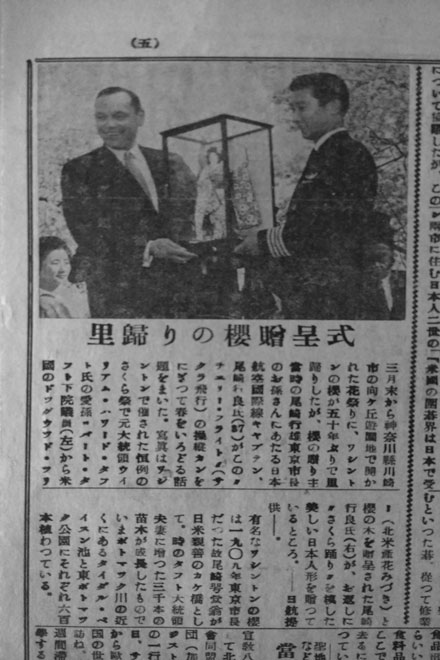 Original Issue Date: April 11, 1963
Translated by Megumi Matsuzaki
After 50 years, a cherry blossom plant  returned from Washington D.C. to Japan during the flower festival at the end of March in Mukogaoka amusement park in Kawasaki city, Kanagawa prefecture. The pilot of the "cherry-flight" transporting the cherry blossom was Yukiyoshi Ozaki, a 37-year-old pilot for the Japan Airlines' international flight. He is the grandson of Yukio Ozaki, former mayor of the Tokyo City who sent the cherry trees to the United States 50 years ago.
The picture was taken when Yukiyoshi Ozaki presented a beautiful Japanese doll performing the cherry blossom dance after Congressman Robert Taft, a grandson of former President William Howard Taft gifted the U.S. dogwood and cherry blossom trees to Ozaki. The photo was courtesy of JAL.
The famous 3,000 cherry blossom plants in Washington D.C. were originally from Tokyo Mayor late Yukio Ozaki in 1909 to President Taft for the U.S.-Japan friendship. Now all 600 trees have grown up in the Tidal Basin and East Potomac Park near the Potomac River in Washington D.C.
In 1909, the Mayor Yukio Ozaki of Tokyo-city at that time, gave Prime Minister and Mrs. Taft 3,000 young  cherry blossom plants as proof of friendship between Japan and the United States. Now 600 of them grow in Tidal Basin and East Potomac Park and popular in Washington D.C.