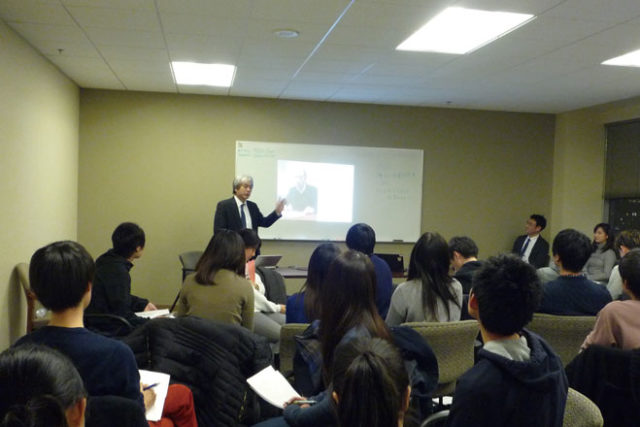 By Akari Terouchi
For The North American Post
International Cross-Cultural Committee, a Japanese agency for serving some study abroad programs, organized a lecture on Jan. 23 to consider how to solve social problems through business.
7Titled "People with disabilities and business," the event featured Kazuhiro Nozawa, a theorist of Mainichi Newspaper Co., and Jun Nakamura, president of Thankstemp. Co., as guest speakers to share and discuss present conditions related to the employment of people with disabilities in Japan and to discuss the future.
Nozawa introduced the idea that an environmental arrangement for specific people could prove a good influence to other people, which was deemed a reasonable consideration.
"It is not real support to apply people with disabilities to the existing values," he said. "We have to service a society where everybody can use each capability or talent."
Thankstemp has increased opportunities for work to people with disabilities. According to Nakamura, 90% of their employees have some sort of disability.
"It is easy to eliminate some visible barriers, but excluding invisible barriers like feelings is so difficult," he said, "Corporations that are in favor of accepting people with disabilities can hardly promote a plan when it is difficult to find a position for a disabled person."
He introduced an example in which they created more employment opportunities through outsourcing in-house and talked about environmental arrangements in which people with disabilities could play active roles.
Kayoko Fujita of En Pacific Service Inc., which cooperated with ICC for planning this lecture, said, "We organize similar lectures in San Francisco, Los Angeles and New York. We hope that those lectures are helpful for them."
The audience continued to ask questions to guest speakers even after the lecture was finished. It was made clear that promoting the employment of minorities including people with disabilities has become more attractive .