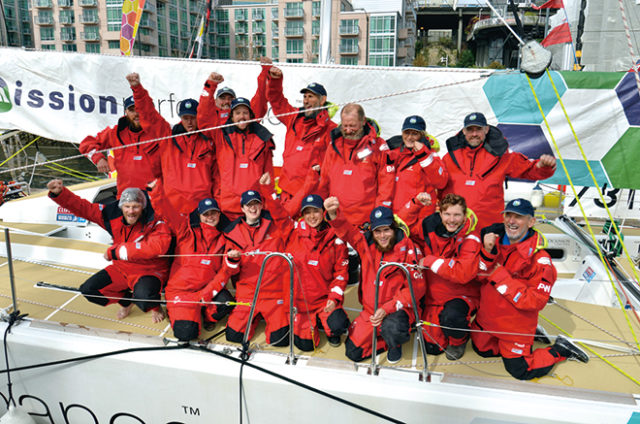 By Shihou Sasaki
The North American Post
Local Japanese woman Yuko Kikuchi successfully completed her 28-day voyage on the Pacific along with her 14 teammates in the Clipper 2015-2016 Round the World Yacht Race.
Kikuchi, a 40-year-old real estate owner, has joined one of the toughest and longest yacht races in the world this year. Her team Mission Performance arrived at Pier 66 this Friday along with other 11 racing yachts, which reached the port one by one through the weekend.
"Seattle had never looked so good as we approached and I saw the Space Needle!" said Kikuchi, after her 6,000 mile voyage from Qingdao in China to Seattle. "The trip from China was very cold and wet and with numerous storms creating massive waves, but we had a really good team and we made it work. Everyone was so committed and determined."
Kikuchi, who was born in Ishinomaki, Miyagi, recalled the 2011 devastating earthquake and tsunami of her hometown which has become a part of her motivations into the race.
"I experienced some personal difficulty in the last few years and I realized that I had to do something for myself," she said. "Going through the big earthquake and tsunami, I was avoiding the ocean for a few years as it took a lot of lives in my city. But then I thought I have to really appreciate the ocean, and that's part of it.
"I had to do it. I wanted to give some encouragement to the people there that it is ok to go back to the ocean and enjoy it."
In addition to the Leg 6 crossing Pacific Ocean, Kikuchi earlier voyaged Leg 3 from South Africa to Australia in November.
"Going on deck when it is so cold, raining and dark and you are working, it is hard. I am very proud though. I have completed my big ocean crossing for my 40th birthday.
"I am looking forward to a shower and a real rest room," Kikuchi also said, smiling.
Her husband Takao, who welcomed his wife's return to Seattle, said that her participation was a huge surprise for him but he has been very supportive of her challenge. The couple later welcomed the yacht team members to Takao's Dragonfish Asian Cafe in Downtown for a small reception.
The Clipper Round the World Yacht Race based in the United Kingdom is the only one of its kind in the world for amateur sailors. According to the United Kingdom-based organization, the teams are made up of 700 amateur sailors around the world led by professional skippers of each yacht after weeks of training.
The yachts are racing for 11 months from Aug. 30, 2015 through July 30 this year to complete the 40,000-mile voyage visiting 14 ports, which are broken into eight-leg series.
Seattle hosted the race for the first time as the Visit Seattle joined the race and arrived at its homeport on Sunday.