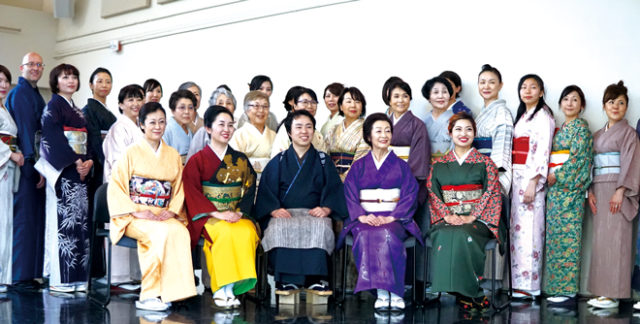 By Nicholas Turner
The North American Post
Nikkei fashion and cuisine blended together in graceful harmony last Saturday at "Kimono and Kaiseki Kyoto Beautiful Japan." The event, which was held in a sunlit room on the third floor of Pike Place Market, featured three people and their work. Each of these artists, an expert in their own way, spoke to a small but attentive crowd. The venue provided ample space for roughly 50 guests. The pane-glass windows facing west afforded guests a clear view of Elliot Bay, and allowed light to illuminate the colorful kimonos many women wore to the event and the extravagant food they enjoyed.
The event began with Kaiseki Chef Hiro Tawara, who is now working in a kitchen in the lower levels of the market. The handmade, kaiseki-style arrangements he created for Saturday's event were artistic, to say the least, and held an aesthetic that most would not expect from such a refreshingly simple dish.
Kaiseki refers to a traditional multi-course Japanese dinner. The term also refers to the skills and techniques required for the preparation of such meals. Tawara's expertise can be traced back to Kyoto where he worked for several Japanese restaurants for almost 10 years and became an executive chef and general manager.
He moved to the United States in 2005 and worked for "I Love Sushi," "Shiro's," and "Sushi Kappo Tamura.". He started his own business, "WA's Kitchen," in 2015 and has been catering for private dinners and kaiseki events ever since. In February this year he was selected as one of 12 finalists in the Japan Culinary Arts Competition Kyoto. He will be serving his kaiseki luncheon to the Kyoto Club in Seattle this Saturday.
Kimono Master Yu Ugawa, an expert educator on the revered art of kimono- traditional Japanese robes-, attended the event and gave a presentation in which, she spoke to the crowd about the beauty of kimonos, their subtle complexity, and gave advice on how to match the colors of their different components.
The kimono is a traditional Japanese garment. These full-length robes are worn during festivals and formal events, and represent etiquette and elegance in a culture permeated by formality. Kimono are most often worn by women and only during special occasions. Few women and even fewer men still wear the kimono on a daily basis, but Ugawa's work shows that the relevance of this iconic fashion can be revived with modern design.
Ugawa's career started when she married a kimono retailer in Kobe City. Since then she has expanded her retail business and is now head instructor of a kimono school. She also established the bridal group "Yu and You," and was appointed chairperson for I Love Kimono Yukinokai Organization.
Ugawa has presented kimono shows in various locations. She presented in Washington for the first time in 2011 at the Aki Matsuri where she gave a Furisode lecture and curated a Yukata Fashion Show. In June the next year she presented "The Tradition and Culture of Kimono" at the Nagomi Tea House with support from the North American Foundation.
In 2013, she gave her Japanese Kimono wedding presentation at the Seattle Japanese Garden and, in June 2014, her Retro Modern Kimono Show at the Seattle Asian Art Museum.
Kimono artist Azumi Hosoda also attended and spoke at the event. An expert in wax-resist dyeing, or "rouketsusome," Hosoda first experimented with kimono design at a young age.
Now with 20 years of experience in the textile and craft field, and six years designing kimonos, she has built herself a reputation around her creative artwork, which embodies a combination of traditional craftsmanship and modern design. She is currently an instructor in the Department of Design at the Nagoya University of Art, and teaches courses in the principles of dyeing, kimono dyeing, and textile design. At the moment she has many projects both in Seattle and in Japan. Her artwork will be displayed at Seattle Kobo Gallery (HIGO) by this Saturday.