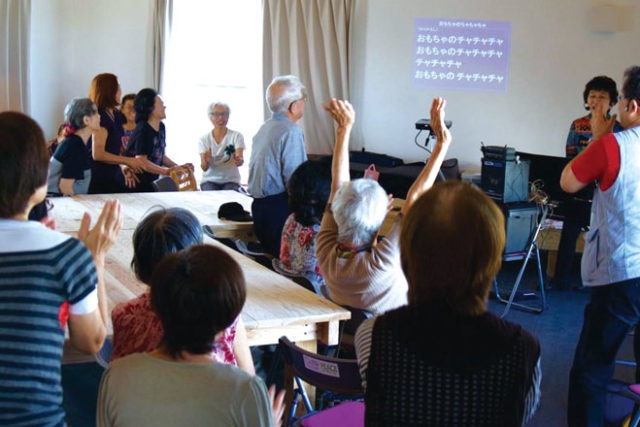 From Peace Winds America
Joyful voices raised in song rang out across the empty gravel pathways of a temporary housing site in Mashiki, Kumamoto. This cheerful sound and the enthusiastic clapping that followed drew a team from Peace Winds America toward a small building located in the center of the temporary housing site.  As they approached, the team heard the words of "Omocha no ChaChaCha," a very famous Japanese children's song. Inside, gathered residents engaged in a music program that brought much laughter and joy, especially among its elderly residents.
After a serious disaster like the Kumamoto earthquakes, elderly evacuees suffer from a variety of ailments, including high blood pressure and pneumonia, which can result in death. In addition to medical problems, stress-related psychological issues can develop and are often difficult to recognize. Some symptoms are: general apathy; changes in appetite and weight; disturbed sleep; psychomotor agitation or retardation; fatigue and loss of energy; feelings of worthlessness, self-reproach, or excessive guilt; suicidal thinking or attempts; and difficulty with thinking or concentration. For example, the elderly evacuees often are frustrated when told of complex procedures needed to qualify for national or prefectural disaster relief assistance. Being unable to get answers and clear understanding, they give up on hopes of relief, which leads to depression.
After the crisis, Peace Winds operated two major shelters providing the basic necessities: sleeping units, food, water, toilets and showers. In an interview, one elderly resident described her struggle caused by the earthquakes. "Can't sleep, can't eat, and always feel tense…that kind of situation goes on and on.  We lost our house and job, and we need a lot of money to rebuild [our] home…I feel miserable at night and can't sleep."
Those responses are typical after a disaster, fortunately the shelter sites had community rooms where Peace Winds facilitated various social events–cooking and potluck parties, flower arrangement and gardening workshops, and game and movie nights. Those events have played a crucial role in mitigating evacuees' stressful living conditions, fostering a community, and returning a sense of normalcy. All the interviewees spoke with one voice that the Peace Winds shelter became their new community as a result of those social events where they could forget about the disaster and enjoy time with their neighbors.
Since childhood, the Mashiki community has been closely connected; typical of a rural area in Japan. As the joyful voices of elderly evacuees sang "Omocha no ChaChaCha," Peace Winds team was so grateful. It is clear community programs make a difference. Peace Winds is committed to continue social community activities and programs in the temporary housing sites. Peace Winds knows that many people are at risk after a disaster and their programs help protect from isolation as well as psychological disorders.
NOTE:  Giving Tuesday, Nov. 29, is an opportunity to support Peace Winds America Kumamoto temporary housing community programs. Donations will be matched by the Bill and Melinda Gates Foundation when given through the Global Giving site: www.globalgiving.org/projects/rebuilding-communities-and-livelihoods-in-japan/.