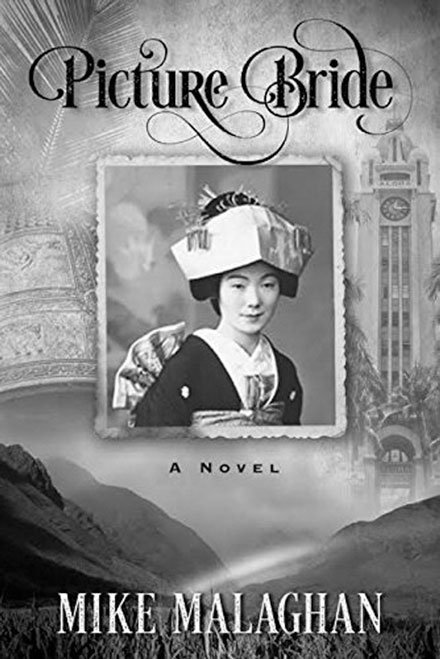 From NVC Foundation
Debut novelist, Mike Malaghan from Honolulu has turned his passion for history into the sweeping epic "Picture Bride," newly released by Legacy Isle Publishing. Malaghan's gripping 500-page saga follows Haru, a young peasant girl in turn-of-the-century Japan, from the temples of Kyushu to the sugar plantations of Territorial Hawaii. Betrayed by her best friend, she seeks refuge in an arranged marriage to a Buddhist priest in the far-off Hawaiian Islands, only to find herself with a husband who doesn't want her, living among a white population distrustful of Japanese immigrants.
Portrayed as a woman of silk and steel, Haru soon emerges as a strong-minded community leader, a teacher, and an insightful go-between who recognizes the looming threats to her family and friends.  Having once pledged to produce sons to fight for the emperor, she dedicates herself to raising American children loyal to the Stars and Stripes. Absorbing and meticulously researched, "Picture Bride" is in fact the story of Hawaii's Japanese immigrants who survived —and thrived — against great odds.
Following a decades-long career as a businessman in Asia, author Malaghan found inspiration in The First Battle, a 2006 film about a group of multi-ethnic civilian and military leaders who monitored race relations in Hawaii during World War II and lent support to the Japanese community. "Only 2,000 of Hawaii's 140,000 Japanese were imprisoned or interned," Malaghan says, "rather than all of them as in California—but why?" He knew that was his story.  Originally, he began the novel the day Pearl Harbor was bombed, with the idea of following the young men of the famous Nisei 442nd Regiment.  But he soon began asking, 'Where did these exceptional men come from?" "Who were these amazing parents, these exceptional women who raised families to believe in the American dream?" Malaghan wrote Picture Bride and created the character of Haru to reveal who they were and how they never gave up, regardless of the barriers they had to face.
Populating his novel with fictionalized versions of actual historical figures, as well as charters of his own invention often inspired by real people, Malaghan drew from newspaper archives, personal interviews, and trips to each location featured in this ten-year labor of love.  He is currently at work on a sequel, "A Question of Loyalty," which chronicles the twenty-one Nisei Medal of Honor recipients.
The NVC Foundation will welcome Malaghan, who will be making a presentation of his new novel, "Picture Bride" on Jan. 28 at 7 p.m. at the NVC Memorial Hall. For more information, contact Debbie Kashino at debbiekashino@gmail.com.