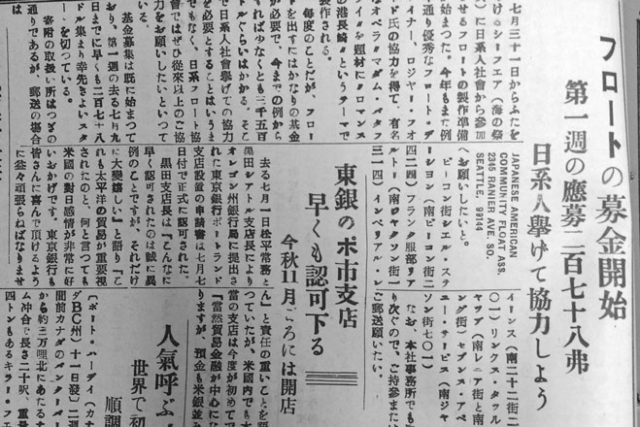 Original Issue Date: July 13, 1965
Translated by Yuka Takeda
The North American Post
The local Japanese American community wants to build a float for Seafair, which will begin on July 31. As in previous years, the community will work with great float designer Roger Ford and create the float on the theme of "Nagasaki as Romance Port" from the famous opera "Madame Butterfly."
Building a float to participate in local events is always costly, and the project will need up to $3,500, judging by previous years. The Japanese American Community Float Association is asking the community for more cooperation than usual in addition to generous support.
The project campaign has already begun, and in the first week raised $2,078. Mail donations can be sent to the Japanese American Community Float Association at 2345 Rainier Ave. S., Seattle, 98144.
Donations can also be dropped off at: Beacon Avenue Shell Station at 2424 Beacon Avenue South, Frank Hattori Realtor at 1314 South Jackson Street, Imperial Lanes at 2101 22nd Avenue South, Linc's Fishing Tackle at Rainier Avenue South and South King Street and Seventh Auto Service at 701 South Jackson Street.
The North American Post will also be accepting donations for the project, in person at the office or by mail.