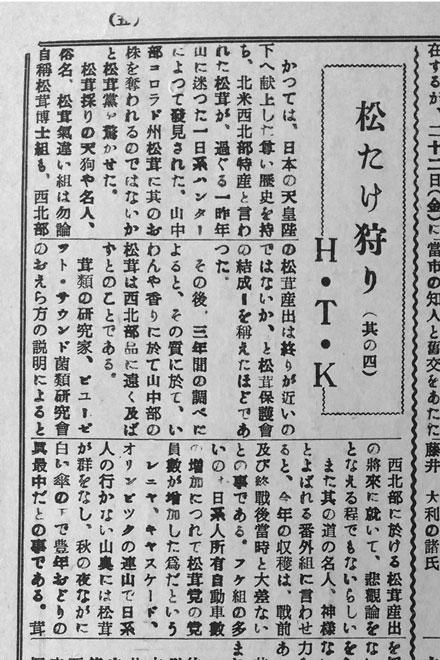 Original Issue Date: Oct. 20, 1965
Translated by
The North American Post Staff
The matsutake mushroom, known as a Northwest specialty, has a precious history that was once gifted to the Japanese Emperor. But last year, one Japanese hunter discovered matsutake in central Colorado when he got lost in the mountains. Local Northwest matsutake pickers were shocked by this news, fearing it would upstage them.
The Tengu, a group of matsutake pickers, and experts known as matsutake enthusiasts, alongside self-proclaimed matsutake professors, were anxious that the end of Northwest matsutake may be near and went as far as to found a matsutake protection committee.
After that, according to a three-year research project, the matsutake from the Northwest has a quality, easily discernible from the fragrance,  far beyond the ones from the mountains of Colorado.
Mushroom specialists from the Puget Sound Mycological Society explained that we do not need to worry about the future of matsutake in the Northwest.
According to experts known as matsutake-gods, there is no significant difference between crops this year and the periods before and just after World War II. The number of those who could not find matsutake have increased because there are more pickers as more Japanese Americans come to own more vehicles.
During the long Autumn nights, massive amounts of matsutake are still thriving deep in the Rainer, Cascade and Olympic mountains, where Japanese American pickers do not go. The hunting experts added that they asked pickers not to dig into the ground around the matsutake as it damages the root where the mushroom would grow again.
Here are the list of matsutake displayed at Sagamiya:
13 oz by Shunroku Sasaki, 8 oz by Ichiyo Kawachi, 13 oz by Yutaka Kinomoto, 1 lb 9 oz by Mrs. Kataoka, 10 oz by Masao Nakagaki, 1 lb 15 oz by Jimmy Nose, 1 b by Tsuneichiro Nishikawa, 1 lb 7 oz by Toshizo Mori, 1 lb 8 oz by Richard Kirihara.
We have seen more Nisei matsutake pickers as it has become a weekend family activity. Some have shared a complaint that people should leave a marker if they needed to use the toilet at the site.
Prizes for the matsutake contest have been donated from local businesses. We will continue posting the results.