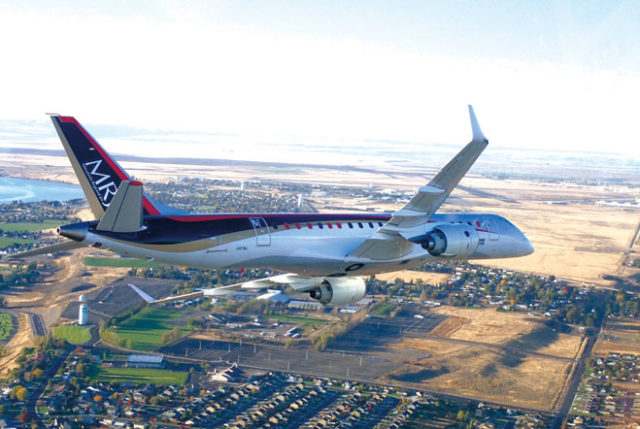 By The North American Post Staff
The first Mitsubishi Regional Jet (MRJ) successfully landed at the Grant County International Airport in Moses Lake, Wash., last Wednesday for the intensive flight test.
The total flight time from Japan was 13 hours and 8 minutes for 8,300 km from Nagoya Airfield through New Chitose Airport in Hokkaido, Yelizovo Airport in Petropavlovsk-Kamchatsky, Kamchatka, Russia, Ted Stevens Anchorage International Airport in Alaska to Moses Lake.
"The aircraft has been in great shape. We would like to accelerate flight tests, making steady progress in development," said Yoshiyuki Yasumura, a chief test pilot.
The MRJ, projected by Mitsubishi Aircraft Corporation, is the first passenger airliner made and designed in Japan in about 50 years. The airplane was originally planned to complete its first ferry flight around the end of August or early September, but the schedule was delayed due to failures of their two ferry flights. The opening ceremony of the Flight Test Center for MRJ in Moses Lake, which was set to be on Sept. 9, was canceled.
"We will be able to carry out frequent flight tests, as Grant County International Airport has long runways with fewer restrictions on the use of testing, and Moses Lake is well-known for its high chance of good weather conditions," stated the company newsletter. "We will finally start flight tests in the U.S. toward type certificate acquisition."
Mitsubishi Airplane Company has received 447 orders as of now but are still far away from its goal of 1,000 orders. The Japanese airplane company will gear up the test flight for the first delivery, which is planned to be in 2018. The schedule might be delayed, according to Japanese media.
Still the local Japanese community expressed anticipation for the project. The local Japanese consulate released a welcome statement for the MRJ and the new relationship between Washington State and Japan.
"Japan and Washington have a historically deep tradition of both cultural and people-to-people exchange and also share a close economic relationship, which was fortified in June of this year when both sides signed the Memorandum of Cooperation on Economic and Trade Relations," Consul General Masahiro Omura stated. "For the development of the MRJ, it is very reassuring that we have such a strong relationship with our partner, Washington. The MRJ is really an aircraft 'developed and made with the U.S. and Washington State.'
"We look forward to continuing our support for the successful development of the MRJ project," he also said.