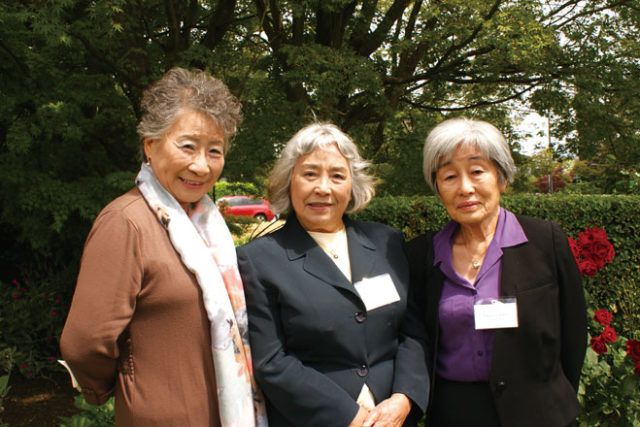 By Chinami Daima
The North American Post
Around 40,000 to 50,000 or more Japanese women have immigrated to the United States after their marriages to U.S. military soldiers after World War II through the 1950s. The national census in 2000 found that Japanese Americans living in the county's number 790,551. Considering their descendants, the number of Japanese women is not small portion.
As several military bases are located in the Puget Sound area, this region is where a decent number of Japanese women have resided and built their community clubs including Kisaragi Kai, Peninsula Japanese Women's Club in Bremerton, Tanpopo No Kai in Tacoma and Shakunage Kai in Oak Harbor.
Kisaragi Kai is the oldest Japanese womens club among the four groups and has marked its 40th anniversary this year. The organization was originally founded for those who immigrated from Tokyo in 1976 but it has since added more members from other prefectures, mostly Japanese international-marriage women seeking a social group.
The genral activities include cooking and craft classes and community volunteer services for such things as the Seattle Cherry Blossom Festival, Aki Matsuri and Keiro Northwest. The club name came from the old Japanese calendar term in February for holding an annual meeting.
"The members are excited in the annual reception," said Narachiyo Sekine, Kisaragi Kai president.
Peninsula Japanese Women's Club was organized in 1979 to practice classical Japanese dance. The members gather three times a year including the new-year celebration in March, a summer and a year-end party in January.
The group has perforemd Japanese classical dance and music for local schools and has joined a local parade and navy related events.
"We want to doing with fun," said Shizue Black, president of Peninsula Japanese Women's Club.
Tampopo no Kai is celebrating its 30th anniversary this year. The members of Tanpopo No Kai are based in the Tacoma area and have socialized twice a month with bowling, chorus, origami and performances in the community.
Shakunage Kai also marked its 20th anniversary this year. President Sonoko Rhodes recalled that the club was founded with help by Tanpopo no Kai representatives contributing to the U.S.-Japan friendship through engaging in community activities.
Based in Oak Harbor on Whidbey Island, the club has been active through its annual garage sale, summer picnic and community services including sushi and origami making for cultural exchange.
"When people enjoying the activities, they told me, 'Thank you,' which has been my motivation," said Rhodes.
In the 70-year post-World War II period, recent life and customs of the Japanese immigrants have changed though many Japanese women still immigrating to the States with their international marriages.
Due to the gap between the old and new generations of Japanese, local woman's associations have been facing an aging issue and difficult times recruiting new members.
Each club's membership has been down, including about 40 from a maximum of 120 members of Kisaragi Kai.
Peninsula Japanese Woman's Club, which has new members in their 40s, are now at about a membership of 55, compared to its maximum of about 120.
Tanpopo no Kai has been the biggest Japanese woman's club in the county with 300 to 400 members but is now down to about 170.
"The members are excited to meet friends in the club," said Yuko Toth, president of Tanpopo no Kai. "We want young generation hoping to continue the club."
According to the Immigration Act of 1924, Japanese descendants were considered as aliens ineligible for citizenship, and Japanese could not immigrate to the United States as permanent residents.
The Japanese Brides Acts in 1947 was formulated thanks to the movement led by the Japanese American Citizens League. Since then, U.S. servicemen in the military could return with their Japanese wives and children.
The Japanese women who immigrated as wives of military soliders after World War II were often called "war brides." Joining the typical American household lives, the women's grassroot efforts have certainly impacted the U.S.-Japan relationship. Their social services engaged in responding to a stereotype toward international marriages around the Japanese American community.
"When we first came to the States, there weren't even soy sauce near us," said Tsuchino Forrester, a former president of Kisaragi Kai. "We started our life in the house, which had different language and culture, and spread out the Japanese culture."