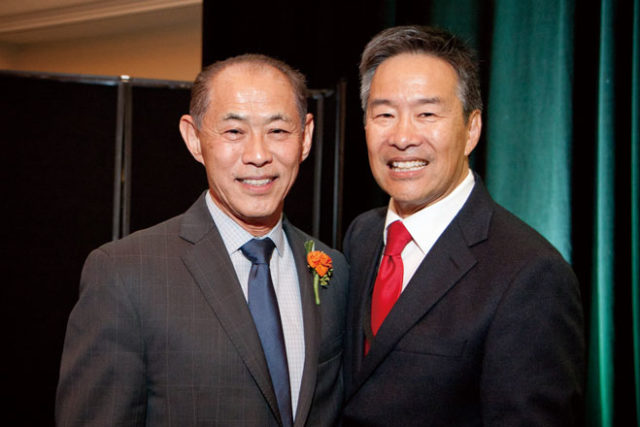 By Shihou Sasaki
The North American Post
It has been meaningful for the community to look back on Densho's 20 years of activities aimed at preserving the history and experiences of Japanese Americans. The organization celebrated its anniversary last Saturday with over 500 attendees at the Sheraton Hotel in downtown Seattle.
Densho's history began after a small group of volunteers met at an old church in Bellevue and discussed, "What would happen if people knew about the World War II incarceration of Japanese Americans?"
Each year, Densho has made significant progress toward their online preservation work, successfully conducting over 900 oral interviews and collecting 50,000 items such as photographs, documents and newspapers. Using online resources accessed through its encyclopedia, the organization has created educational curriculum for classrooms in elementary, middle and high schools and has also been taking a stand against racism and bigotry based on experiences of Japanese Americans.
"[T]he real benefit of spending 20 years designing and creating such a content-rich online resource is that it has given us profound insights grounded in Japanese American history," stated Tom Ikeda, executive director of Densho. "Our awareness of the similarities of the Japanese American experience to stories heard elsewhere allows us to share, grow and unite with other communities to foster equity and justice."
Upon reaching the 20th anniversary, President Barack Obama also provided a congratulatory message for the evening celebration.
"Densho recognizes the indignities millions of innocent people have often silently faced throughout history and strives to use the lessons of our past to reawaken our moral imaginations," President Obama states. "For two decades, it has worked to keep alive the memories of the over 120,000 Japanese Americans interned in the United States during World War II, reminding us of our Nation's responsibility to come to terms with our mistakes and remake ourselves to be better.
"All our people — no matter who they are or where they come from – deserve to be able to go about their days in safety and with dignity, unafraid of facing repercussions for crimes they did not commit."
The day became a historic day in Seattle as Mayor Ed Murray proclaimed Sept. 24, 2016, as Densho Day, saying,
"Densho has made an enduring contribution to Seattle history by capturing, preserving, and sharing the stories of Japanese Americans who were removed from their homes and incarcerated;
"Densho has been an innovator in their use of technology to share online the stories of more than 900 Japanese Americans and over 50,000 historic photographs, documents, and newspapers;
"Densho shares its rich primary source materials, along with learning activities with students and teachers in Seattle and throughout our nation;
"Densho contributes their skills and resources to link the Japanese American incarceration story with some of the most important social justice issues of today;
"Densho celebrates an outstanding 20th anniversary and we wish for many more years of continued success and service to the community."
Murray is husband of Michael Shiosaki, whose father Fred is a veteran of the 442nd Regimental Combat Team. Fred's experience is available online and also was partly shared on stage by Ikeda of Densho.
Ikeda said that Densho will continue collecting powerful stories while he added that more than half of the 900 interviewees have passed away in the last 20 years.
Keynote speaker Dale Minami, a lawyer and activist for many key civil rights cases, cautioned that history and lessons are often forgotten, and even history is considered not to connect to the presedent day. He added that the Japanese American experiences from the World War II incarceration and redress for draft resisters are great examples of how people have recognized the injustice and revised their views and opinions.
"I hope we can use our knowledge, our history, our moral authority, our will to do something to speak out to insure that the terrible injustices that we've experienced as a people will never be repeated," he said.