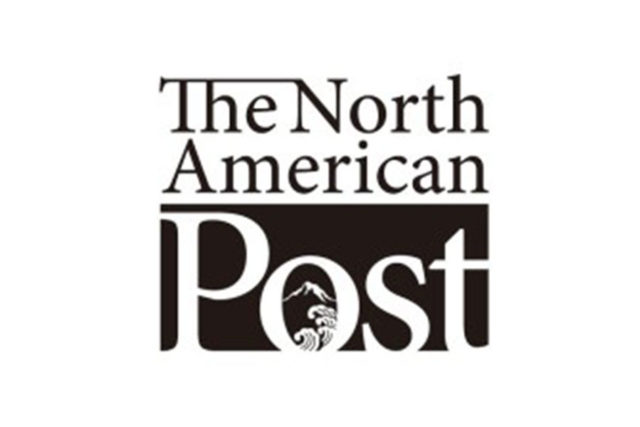 By Yukiko Tanaka
For The North American Post
The main gate of Sensōji is Kaminarimon, or the "Gate of Thunder," where you see a large paper lantern with Chinese character for "thunder" on it hanging. On both sides of the gate stand two fearsome figures of the "Wind God" and the "Thunder God." Going through the gate, you will be in Nakamise-dōri, a narrow passage, both sides of which are lined with nearly one hundred small shops and stalls selling souvenirs, food and what not. Undoubtedly the largest of its kind, passages with busy commercial activities were commonly seen in front of temples in pre-modern Japan (today as well, on special occasions), proof, you might say, that religious activity ('the sacred') and shopping ('the pleasure') went hand in hand. You proceed along this passage and get to Hozomon Gate, beyond which is the hondo, the main hall.
A remarkable fact about Sensōji Temple is that its history goes back to the middle of the 7th century, making it among the oldest in Tokyo. Its principal image is a tiny golden statue of Kannon, the Goddess of Mercy, which supposedly sits at the innermost part of the hall, although no one outside of the temple is able to see it. It is said that this golden statue was found by fisherman brothers in the water of Sumida River.
There are a few more structures on the compound, such as Asakusa-jinja Shrine, Benten-dō (dedicated to the goddess of fortune) and a pagoda, which has been rebuilt time and again after its many destructions. Hōzō-mon is another gate that should not be missed for its splendid craftsmanship. Denbo-in Temple, occupying a large part of the compound, however, is a private residence of the temple's chief priest that is not open to the public other than on rare special occasions. This is unfortunate because its garden, supposedly having been designed by Komori Enshuu, is exceptional, one of the best in my mind, among many Tokyo gardens. (I was lucky and was able to get in.)
Then, you can see in the northwest corner of the temple compound a spot that is miles apart from Sensōji today and its old tradition. Called Hanayashiki, or 'Flower Mansion,' it is an amusement park. Not everyone familiar with Asakusa knows, but Hanayashiki is the oldest of its kind in Japan as it was opened in 1853, right around the time when American Commodore Perry came to Japan, knocking at its door. The sound of a merry-go-round and a roller coaster amongst children's laughter are parts of Asakusa today and of its history.
An entertainment zone for adults today, previously known as Rokku but now as Rokku Broadway, is not far away from Hanayashiki. Although nothing like in the old days, you see here some small theaters offering various types of popular entertainments, such as manzai, rakugo and yokyoku. Although Asakusa's tradition in entertainment seems alive here without its glory of the past, patrons of these types of entertainment are small in number and mainly older adults.
What is not well-known to the sightseers of Asakusa is a small museum located north of Rokku Broadway and off Kototoi-dōri St. It exhibits (and sells) various kinds of traditional crafts and art made by artisans who live in Taito Ward. It is nice to be able to see them–small furniture, toys, glassware (called Edo kiriko)—all in one place. You see here not only what Edo artisans were making but the continuity of skills and ideas that have been successfully passed down till today. You can see demonstrations by artisans on certain weekend days.
People of Taito Ward (along with that of its neighboring Sumida Ward) are eager, it seems, to preserve traditional arts and crafts that have been passed down. The same can be said about food. Besides sushi and tempura, of which their origin is in Asakusa as I mentioned earlier, less popular food, such as dojo (loach) and suppon (turtle), are found in restaurants in Asakusa and some of the restaurants that serve them have been there for generations. You will recall that Asakusa was, and is, a mecca for food lovers and connoisseurs. A tempura restaurant "Owariya" and a coffee house "Angelus" among the favorites of Nagai Kafu are doing well, having been at their present locations for a long time. "Arizona Kitchen" that served yoshoku Japanese-style western food was unfortunately closed this year.
Once you leave the Sensōji compound and its immediate surroundings, it is not easy to choose which street to walk on to get a good feel of Asakusa. Asakusa-dōri is among several streets stretching westward and eventually to Ueno, Asakusa-dōri is lined with stores selling everything you need for Buddhist ceremonies for the dead. Kappabashi-dōri, on the other hand, is a street lined on both sides with wholesalers dealing with every kind of kitchenware, primarily for professionals but they also welcome general shoppers. Once I saw a foreigner buying a set of plastic sushi, the kind you see (or used to see) being displayed at the entry to a restaurant to show what is being served inside. As the name of Kikuyabashi-dōri, or Kikuya Bridge Street, indicates, there was once a canal here.
Some people may wish to stay right in Asakusa as there are both large hotels and several business hotels. If you want a traditional inn, Sadahiyo might be your choice since there you have a chance to see Edo-style décor in and out. With tourists in mind this inn also offers (for an extra fee) opportunities for such experiences as dance and music performed by geishas.
[Editor's Note]
This series introduces a historical view of various sites in Tokyo. The writer can be reached atytanaka03@gmail.com.