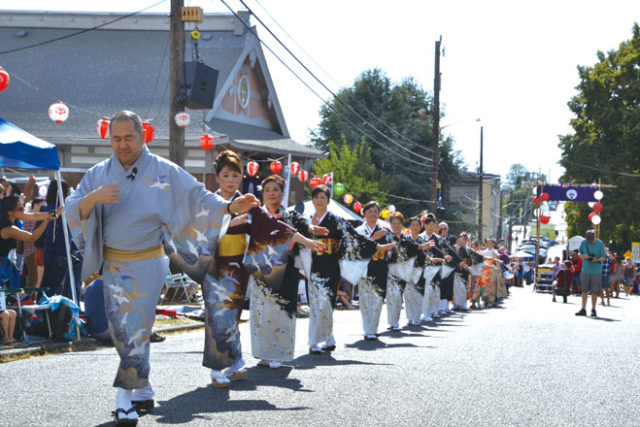 By Yuka Takeda
The North American Post
The 84th annual Bon Odori festival was held at Seattle Betsuin Buddhist Temple on Saturday and Sunday, crowded with participants of diverse generations and races. In addition to 17 dances on Saturday and 13 dances on Sunday on the Weller Street in front of the temple, the event featured food booths, martial arts and musical demonstrations and community exhibitions.
"This event has been passed from generation to generation," said Alan Hoshino, president of Seattle Betsuin. "Also, this event plays a role in getting people together, so it is important for the community."
Having attended the event since his childhood, Hoshino said he is glad to see the event attendees lining up in a circle around the stage in front of the temple.
"This event is a good opportunity to spread Japanese culture," Calvin Terada, temple's vice president, also said. "I'm glad that many people besides Japanese join this event."
The Bon Odori events will continue around the Puget Sound area at White River Buddhist Temple in Auburn this Saturday, Tacoma Buddhist Temple on July 30 and in downtown Olympia on Aug. 13. More information can be found on the calendar page.