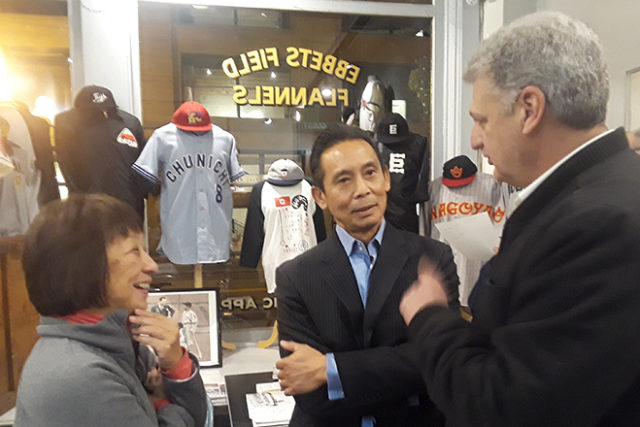 By David Yamaguchi
TO WRITE FREELANCE articles for this paper is a mixed bag. Most of the time, I am left free to live my life, during which I jot notes and snap photos when I happen on something interesting that readers might enjoy. This approach involves grabbing the low hanging fruit. An apt Japanese phrase for it is "Hidari uchiwa de kurasu." It means to live with ease, by fanning oneself—ineptly—with one's left hand. The implication is that one is too lazy to fan properly, with the right hand.
Occasionally, however, I have to earn my pay when Post manager Misa Murohashi emails to ask if I would be interested in covering an upcoming event. The request she sent on Tuesday, Dec. 4 is typical. Could I cover an evening talk on Nisei baseball last-minute at Ebbets Field Flannels, downtown near First and Jackson, in two days' time?
When such requests come, I weigh the pros and cons. Sometimes it is easy to reply, "Yes." At other times, like this one, I vacillate.
There were many reasons to say no. I'm not really a sports guy. I can count the number of pro and university games I've watched in Seattle across the past 20 years on one hand. I had never heard of the author, Kerry Yo Nakagawa. It is cold and dark out in wintertime Seattle.
Still, there is something about mostly "just saying yes" for the team. By stepping out of my comfort zone, I might also learn something. And so after replying positively to Misa, Thursday afternoon I found myself heading out to find Ebbets Field Flannels. I picked up
copies of the three International District English papers en route to clue Mr. Nakagawa into the local scene.
FROM THE MOMENT I stepped into the doorway of the tiny shop, I found myself carried aloft by a rush of new things and ideas. The feeling would persist across the next two-plus hours, which included grabbing a bite to eat with Mr. Nakagawa on the way home.
The dream shop of owner Jerry Cohen, Ebbets Field sells newly made historical baseball shirts. In business since 1987, Mr. Cohen has always liked such shirts, and finding them unavailable, decided that he had to make and sell them himself. It is the kind of niche business that works today because local sales can be augmented by those nationally with the help of the internet. What caught my eye were the many shirts on display from Japanese teams.
Moreover, in the back "museum" room where there is tight space for 10-15 sardines, there was an immediate sense among the few gathering there that we were about to see something special. Two large video cameras were set up on tripods in the back. A slinky young woman photographer was shooting candids. Tony Black, whose day job is to report the morning news on KING5, was setting up mics. Mr. Nakagawa was dressed sharply, easily chatting with the arriving guests.
While waiting, I began conversing with Julie Ann Oiye, whose face I know from her occasionally attending dance class at the Nisei Veterans Hall. At any community gathering, I find that it is interesting to see who attends and why. It turns out that Julie Ann is Kerry Nakagawa's cousin. She had been the one who contacted the Post to let us know that Kerry would be speaking. Julie Ann had the same impression of Ebbets Field Flannels that I did. Moreover, we both agreed that it is important for all of us to venture out of our little boxes, now and then, to see what else there is in the world…
KERRY BEGAN his talk by explaining his local roots, while adroitly interviewed by Mr. Black. Kerry's mother was born at the historical Neely Mansion, near Auburn, well-described in this paper. His grandpa, Matasuke Fukuda, had owned a dairy farm there until the Great Depression, when he had to pack up the family including 11 kids, and drive to California, to start anew. It was a Japanese-American "Grapes of Wrath" saga.
Long story short, playing baseball has run through the Nakagawa family for generations. Kerry, on finding that the story of Nisei baseball was being left out of the history books, has made it his mission to correct the omission. Along the way, he established a nonprofit—the Nisei Baseball Research Project, wrote two books, and had a hand in producing two films, including "American Pastime" (2007) a fictional account of baseball in the internment camps. In short, Kerry is something like a combined version of our own Ken Mochizuki, Tom Ikeda, and Frank Abe ("Conscience and the Constitution").
During the next hour, which went too quickly, Kerry gave an overview talk, which will shortly become a podcast on the Ebbets Field Flannels website. What I came away with is that there were countless Nisei baseball players, the top end of whom might well have played in the major leagues, were it not for their color of the skin. They were like black players before Jackie Robinson. Nonetheless, through many goodwill playing trips to Japan and Asia, they did much to promote and develop the level of play in Japan. Their collective story was nearly forgotten, save for Kerry's efforts.
On hearing Kerry's tale, I was struck by how it fits with two baseball narratives from my own life. First, it reminded me of a story of a Nisei carpenter from Hawaii, with whom I worked part-time as a high school student in the 1970s, shared with me one day over lunch. He told of how he and his friends—who played in an "old man's league"—had beaten a local Sansei team—my age peers—and how the Sansei had left the field fuming mad.
"What they don't understand is how much ball we played as youngsters," my workmate had said.
Kerry's talk also reminded me of the obscure but charming film, "MacArthur's Children" (1984), which I saw at the Varsity Theater as a UW student. It depicts postwar Japan from the viewpoint of rural schoolchildren. It ends with a friendly baseball game between Occupation troops and the kids.
Back to Kerry, despite his ability to spin a great yarn in person, for me the bottom line remains whether or not his books are any good. That is, do they make a reader want to turn the page, whether he is interested in baseball or not? I close with an excerpt, so that readers can judge for themselves if his words pass the test.
Japanese American Baseball in California, a History
Kerry Yo Nakagawa, 2014, The History Press, 224 pp.
[NTRODUCTION] Japanese Americans have been playing baseball for one hundred years. As fanatic about the grand old game as any other Americans—perhaps more so than most—they played the game around pineapple and sugarcane plantations in Hawaii, near grapevines and vineyards in California, deep in the forests of the Northwest and out near
the cornfields of middle America. Their passion spread through the inner cities and found expression on church playgrounds, on neighborhood sandlots and in city parks.
For half a century, they played largely on teams and in semipro leagues of their own, for American society was not yet ready to welcome them. To the north were the Vancouver Asahi and to the south the Tijuana Nippon. In the east were the Nebraska Nisei and to the west the Hawaiian Asahi. All-star teams crossed the Pacific, journeying to Japan, Korea and Manchuria to compete with university squads and merchant teams. In the Roaring Twenties and the Depression-wracked 1930s, great Japanese American teams were competing at almost every level. They played Pacific Coast League clubs and all-stars from the Negro Leagues. They shared fields with Lou Gehrig, Babe Ruth, Satchel Paige, Jackie Robinson, Tony Lazzeri, Lefty O'Doul, Joe DiMaggio and many other stars.
Then came World War II, and hope and optimism were replaced with undeserved shame, humiliation, and disgrace. Merely because of their race, Japanese Americans—alone among ethnic groups—were summarily relocated to detention camps in desert areas. Stripped of nearly all their possessions and treated as enemiesin-waiting by their adopted homeland, they mustered their dignity and determination—and played ball. Amid sagebrush and barren mountains, they cleared land for diamonds and built grandstands—and played ball.
After the war, Japanese Americans started over again, often in unfamiliar surroundings. They rebuilt their lives from scratch, assimilated into the mainstream as never before—and played ball. In reconstituted leagues, in colleges and universities, on integrated semipro teams, in Japan's professional leagues, and at long last, in the minor and major leagues of organized baseball, they followed in the footsteps of their parents and
grandparents—and played ball.
In an often-quoted statement, Jacques Barzun wrote, "Whoever wants to know the heart and mind of America had better learn baseball." He might have written "the heart and mind of Japanese Americans."  Baseball has been integral to the Japanese American experience. It provided more than a pastime, a way of escaping for a few hours on a Sunday afternoon from hard labor in the fields and cities. It helped to build community; it helped to nurture pride. It gave Japanese Americans something in common with neighbors who often wanted little to do with them. It gave them a way of becoming "American." But baseball also struck deep
roots among Japanese Americans, just as it did among native Japanese from the time it was first introduced in Japan in the nineteenth century. And time and again, baseball has been a bridge between these two great nations, Japan and the United States, a connection shared by two very diverse peoples. After World War II, when American soldiers occupied Japan, it was baseball that provided the means of healing the wounds of
war…