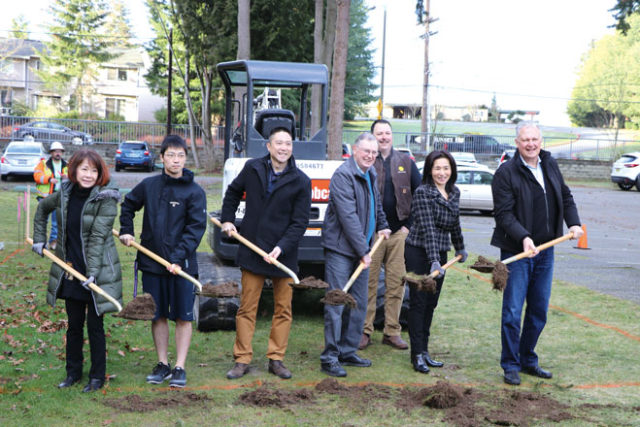 By Shihou Sasaki
Supporters of the Tomoshibi Bunko, a private Japanese library on the Eastside, held a groundbreaking event on Feb. 14 to build a new branch at Jubilee REACH, a local community service organization in Bellevue, after their 6-year effort to sustain service for the Japanese community.
The new building will be the second library after the Bellevue Children's Academy, a private school in Bellevue, agreed to share a space with over 20,000 books on the campus. The library has been open every Saturday, when the site offers a Japanese program with about 100 visitors. Total membership is now over 1,400.
After being run by volunteers for 20 years, the Tomoshibi Library faced closure in 2011, but the supporters strove to sustain the service. Group leader Yoko Sueyoshi found a site at Jubilee Reach to keep the library under the organiation program, and seeked $30,000 in funding. The group thusly achieved its original goal to open the branch expansion.
Sueyoshi said that the building schedule is not yet decided, but the new branch will open on Wednesday. About 100 boxes of books have already been saved and a special comic section will be featured at the new branch.
"After the new Tomoshibi Bunko is built, I hope we will take a role to serve the local society, representing the Japanese community," Sueyoshi said.