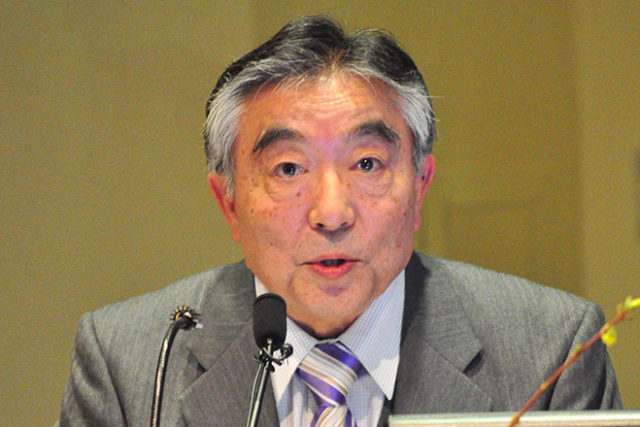 By David Yamaguchi,
A NOV. 3 PRESS RELEASE from the Japanese consulate spells out the news. Tetsuden Kashima has been awarded an Imperial Decoration—the Order of the Rising Sun, Gold Rays with Rosette—from the Japanese government. His selection is in recognition of his contributions to Japanese American sociology and history and to the advancement of Japanese and Japanese Americans in the United States.
Professor Kashima recently retired from the Dept. of American Ethnic Studies at the University of Washington. There, he was notable both for his scholarship on Japanese American history, as well as for his exceptional community outreach. The latter included contributions to the remarkable "Long Journey Home" celebration conferring honorary degrees to Nisei students whose UW educations were interrupted by World War II. That this event mattered was shown by how it was later copied by other West Coast universities.
Dr. Kashima, also originated the annual Day of Remembrance public events at the UW. These commonly included a marvelous lecture or remarks from by him on various topics related to the WWII internment of JAs. He participated in these various activities with his colleagues, Gail Nomura and Steven Sumida, both also well-known, recently retired professors.
As readers of this paper know, Japanese government decorations such as this—generally termed "kunsho awards"—are conferred on only a handful of local individuals per JA generation. Sansei-era recipients include the late Kip Tokuda, mainly known for his work as a state legislator, and Tom Brooke, for his 18 years of organizing and running Aki Matsuri. This was a vast Japanese cultural fair that formerly took over much of the Bellevue College campus over a September weekend.
On reading of Tets' award, I could not help but reflect on my impressions of him, formed through observing him interact with people at community events across the past 20 years. At core, he is a scholar. His book, "Judgment Without Trial," is among the titles that helped me understand the historical context for the separate incarceration of Issei men during WWII. It was one of the keys to deciphering my grandfather's WWII correspondence: the reasons he had to communicate with his family by mail from varied inland locations.
Working-age readers will recognize that the material that Tets and his colleagues have taught is not generally the content that helps us earn a living. It matters in a different way. It instills in students of Japanese ancestry a sense of the five-generation history of their people in the United States, and of where they fit into it. Thus, it simply helps us to live our lives better through inspiring us to be better people. For example, it gives us compassion for more recent immigrant groups facing difficulties today.
What I have especially enjoyed about Tets is how he is a person whom we see and run into often, at major and minor JA and Japanese community events. Moreover, whenever our paths cross, he acts like he is just any other guy. He is friendly and sometimes funny. In these ways, he is a professor of and for the people.
Further, even though Tets is well known, he remains modest. For example, at the recent follow-up panel discussion of the play "An American Dream" at Washington Hall, he limited his invited commentary to about two minutes. He did this to maximize the time available for the Yonsei-aged (~age 30) panelists to speak.
As Tets has long been a member of the advisory board of the North American Post, I also remember him sending students our way to write for us. Those students were able to experience the thrill of seeing their content appear in print. They also gained published writing samples that they could later use in support of job applications.
Please join me in congratulating Professor Kashima on his award. When you do so, you might remember to not call him this. I used to do so until he stopped me from doing so at the "Long Journey" event.
"My name is Tets," he said.