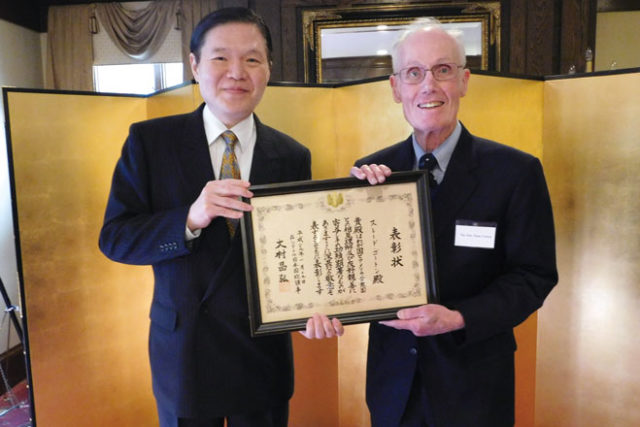 By The North American Post Staff
The Consulate-General of Japan recognized three highly qualified individuals for their contributions to U.S.-Japan relations on Jan. 19 during its New Year's reception at Consul-General Masahiro Omura's official residence. U.S. Senator Slade Gorton and local community leaders Masaru Tahara and Dennis Yamashita received the Consul General's Commendation for recognition of outstanding achievements in and contributions to the promotion of good relations between Japan and the United States.
According to the consulate, "[D]uring his time as senator, Slade Gorton strengthened friendly relations with Japan and fostered many connections across the Pacific."
Gorton reached out to Nintendo Co. Ltd. in 1991 to invest in the Seattle Mariners in order to keep the team in Seattle.
"Despite opposition to investment by a Japanese company in a U.S. baseball team, Senator Gorton formed an ownership group with other local companies and negotiated a deal in which Nintendo was the majority stakeholder. This deal not only kept the Mariners in Seattle, it opened the door for Japanese players to enter the Major Leagues, and significantly furthered mutual understanding between our two countries," according to the press release.
Tahara, co-president of Japanese Community Service of Seattle, has been serving the local community for many years in various areas including Seattle Japanese Language School and Seattle Betsuin Buddhist Temple. He is also known as an author of "New Year Festivities," "A Chronology of the Seattle Nikkeinkai" and his most recent publication, "Tengu – Tales Told by Fishermen and Women of The Tengu Club of Seattle" in order to "preserve and convey the culture and history of the Nikkei community for future generations."
Yamashita has served as chair of the Japan America Society of the State of Washington, president of the Japanese Community Service of Seattle and president of Nikkei Concerns, now Keiro Northwest.
"He continues to serve as a board member in all of these organizations, and is an active volunteer in other community events such as the annual Bon Odori festival. It is thanks to the efforts of leaders like Mr. Yamashita that the local Nikkei community continues to thrive, and the Washington-Japan relationship remains strong," according to the consulate.
Hundreds of community members were invited to the reception to celebrate the New Year and also mingle with each other.